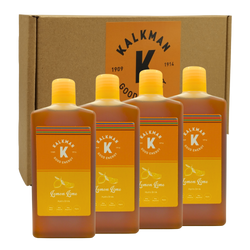 HYDRO DRINK LEMON LIME - Electrolyte thirst quencher with a delicious fresh taste
Hydro Drink is the optimal way to stay hydrated during exercise. It is a liquid drink concentrate made from delicious and nutritious 100% natural ingredients. The recipe contains the optimal mix of electrolytes and natural sugars to maximize your hydration. This hypotonic sports drink makes it the ideal choice for use before, during and after exercise. The Hydro Drink bottle is 250ml, sufficient for filling 10 500ml bidons at standard concentration. 
Kalkman uses organically concentrated grape juice as the basis for Hydro Drink. The natural sugars in grape juice are a good balance of glucose and fructose for easy digestion and uptake by your body. Grape juice also contains its own electrolytes such as potassium and magnesium that are lost during sweating. These electrolytes are brought to an optimal level by the coconut water powder and sea salt. The ratio of sodium to potassium is 4:1, which helps to maintain the fluid balance in your cells during exercise. The delicious light lemon-lime taste of Hydro Drink comes from organic fruit extracts. Like all Kalkman products, it contains no artificial flavours, colours or other synthetic junk.
Ingredients: Concentrated grape juice, coconut water powder, sea salt, lemon extract, lime extract.
Main electrolytes and energy per 25ml:
Carbohydrates 15g 
Potassium 59mg
Sodium 296mg
Magnesium 8mg
Calcium 10mg
Chloride 438mg
Hydro Drink is the ideal base to use during exercise. Low in carbohydrates so that you can choose how much you eat based on how hard and how long your training or competition is. Training low? Then just take the drink, this will keep you better hydrated than water without affecting your fasting state. For a short weekday ride, just have your drink and two servings of food per hour. If you're having a Grand Fondo, use the drink, but bring enough Energy Bites and Energy Shots to meet your carb goal. Just enjoy the delicious light citrus flavour without complicated calculations about how many carbohydrates are in the bottle.
Free delivery through your letterbox (NL)
Fully recyclable HDPE packaging
Easy to mix liquid
Use instructions:
Refrigerate after opening, use within 1 month. Mix 25ml (about 5 teaspoons) in a 500ml bottle.