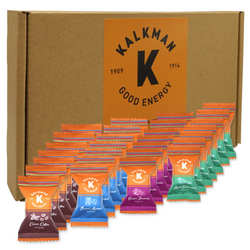 ENERGY BITES VARIETY PACK - Box of 28, 4 flavours, delivered free (NL)
Free delivery

Convenient letterbox parcel

Delivered the following working day
Delicious bite sized energy bars made from 100% natural ingredients. Energy Bites naturally deliver multiple sources of carbohydrate, vitamins and minerals that support sports performance. The healthy alternative to processed energy bars.
Long shelf life outside of the fridge

Climate neutral packaging
Use the menu below to choose a variety box containing 7 of each flavour or 28 of a single flavour. The choice is yours.