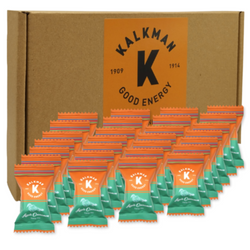 APPLE CINNAMON ENERGY BITES - Box of 28, delivered free (NL)
Free delivery

Convenient letterbox parcel

Delivered the following working day
Delicious bite sized energy bars made from 100% natural ingredients. Energy Bites naturally deliver multiple sources of carbohydrate, vitamins and minerals that support sports performance. The healthy alternative to processed energy bars.
Long shelf life outside of the fridge

Climate neutral packaging
Try this Bite as a healthy alternative to apple tart. Raisins, dates and applestroop deliver 13g of concentrated carbohydrates along with electrolytes and vitamins. Ceylon cinnamon gives a deliciously refined flavour but it has also been shown to help regulate blood sugar.
Ingredients: raisins, date paste, hazelnuts, tapioca flour, appelstroop (3,9%), Ceylon cinnamon (1,5%) apple extract, pink Himalayan salt, lemon oil.